Monday Oct 23, 2023
Finding Fulfillment in Faith and Inspiring Youth | Braden Johnson | Huntley Leadership Podcast #145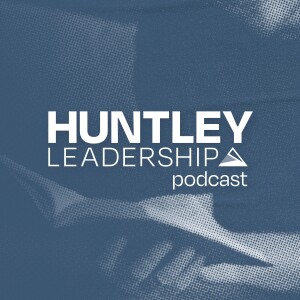 It can sometimes be confusing for the youth to see the deep fulfillment in God and start their journey. Braden Johnson joins us to speak about his journey to finding fulfillment within his faith, sharing his story on searching his heart and finding God, speaking in schools and supporting the youth.
He shares how it is okay to take the time to explore your faith as a youth. Jesus will meet you where you are at and will guide you toward your path.
"It's like in the passage when Jesus is describing the living water, and the woman's like, you don't have a bucket, the well is deep, where can you get this living water? But it was once she encountered Jesus and really discovered this was something only found in Him. It was at that place, so she had such excitement, she ran and went into the town. And really, it's like, what happened for me"
About Braden:
Braden's passion is to awaken hearts to the fulfillment that can only be found in Christ. He lived out this passion working in college campus ministry and now through speaking at conferences, schools, parishes, and retreats. If you would like to talk with Braden or have him come speak in your establishment, you can find him at  CreateTheCulture or connect on socials @Braden.lj.


You can listen to the podcast weekly on Spotify and Apple Podcasts!
Listen on Spotify ⇥ https://spoti.fi/3PYXGa6 
Listen on Apple ⇥ https://apple.co/3vjltcS
Subscribe on YouTube ⇥  @huntleyleadership   

Connect with Huntley Leadership!
Subscribe to this YouTube channel ⇥  @huntleyleadership  
Visit my website ⇥ https://ronhuntley.com
Connect on LinkedIn ⇥ https://linkedin.com/in/huntleyleadership/
Follow on Twitter ⇥ https://twitter.com/ron_huntley/
Follow on Instagram ⇥ https://instagram.com/huntleyleadership/
Follow on Facebook ⇥ https://facebook.com/huntleyleadership/
About Huntley Leadership
Ron Huntley has been strengthening Catholic leaders worldwide as a trusted global partner in parish and diocesan renewal for years. as a speaker, author, and host of his own podcast, Ron is passionate about helping to create ridiculously fruitful parishes. Priests, Bishops and Ministry Partners around the world enjoy Ron's experience, energy and leadership coaching.
The Huntley Leadership Podcast is a Catholic podcast that exists to inspire leaders to see the best, speak the best, and draw the best out in others. When we say Catholic Leadership, we don't just mean the Pastor or Bishop, we mean everyone in your parish and on your team. With a new episode every Monday, there's never a shortage of insights into leadership, renewing your perspective, and living a life in pursuit of Jesus.